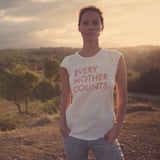 Christy Turlington Burns is a mother, advocate, and founder and CEO of the maternal health organization
Every Mother Counts
. Having endured a childbirth complication herself, Christy was compelled to learn more about the global maternal health tragedy that claims the lives of over 300,000 women every year. She founded Every Mother Counts to educate others and invest in programs around the world to ensure all women have access to quality maternal health care. The organization currently works with 11 grantees in eight countries including the US, Tanzania, Haiti, and Bangladesh.
The mission of Every Mother Counts is to make pregnancy and childbirth safe for every mother, everywhere. Keep scrolling to find out what drives this powerful mom of two, and
support her organization
this Mother's Day by sharing their #OrangeRose Mother's Day campaign.
---------------------------------------------------
LINGERIEPRO
:
Lingeriepro
BRANDCELEBS
:
Brandcelebs
CREZOVI
:
Crezovi
CELEBRITYMAD
:
Celebritymad
YOOCELEBS
:
Yoocelebs
AVIOTUBETV
:
Aviotubetv
TECHAVIO
:
Techavio
Source Credits :
CLICK HERE FOR MORE NEWS
Christy Turlington Burns Is Here to Make Childbirth Safe For Every Mother, Everywhere
Reviewed by
Tech Informer
on
Tuesday, March 13, 2018
Rating: